Stuffed snake gourd with mince chicken curry
2013-02-06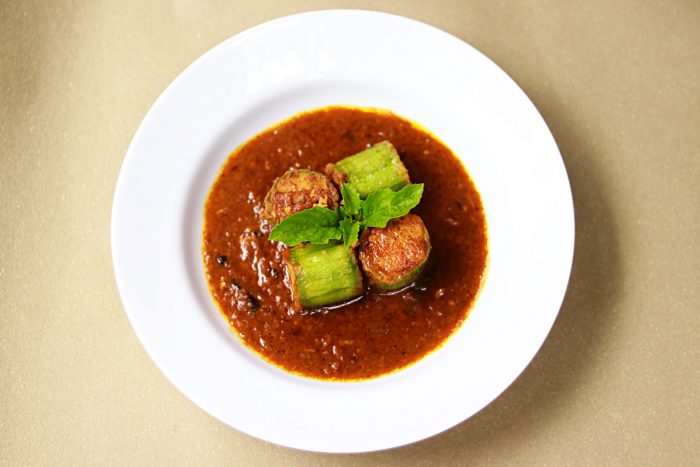 Bangladeshi style mince chicken with vegetable dish – Stuffed snake gourd with mince chicken curry .
Stuffed snake gourd cooking with spicy gravy .
Place the mince chicken in a mixing bowl and mixed with chopped onion, ginger paste, garlic paste, chopped green chili,
salt, cumin powder and chopped coriander leaf .
Peel or scratch the skin part of snake gourd then cut by 01 inches thick slice . Remove the seeds and fill with marinated
mince chicken .
Make the pan medium high heat and seal both side of snake gourd with brown color then transfer in a plate .
Again, Make the pan medium high heat then roast bay leaf, cinnamon stick, cardamon, cloves, dry red chili, cumin seed,
black cumin, put oil after 01 minuet .
When oil will be heat then add shredded onion and stir well, after onion become brown add garlic paste, ginger paste,
turmeric powder, cumin powder,peanut paste salt, green chili and continue stir until oil will come out from gravy .
Add the stuffed snake gourd and cover with the lid , cook with slow heat for about 10 minuets . Before turn off the burner
adjust with salt .
List of ingredients
(for stuffing )
01 pcs snake gourd
100 g. mince chicken
40 g . chopped onion
01 tsp garlic paste
01 tsp ginger paste
02 pcs green chili chopped
1/2 tsp cumin posder
01 tsp salt .
( for gravy )
1/2 cup slice onion
01 tbsp garlic paste
01 tbsp ginger paste
01 pcs bay leaf
02 pcs dry red chili
01 tbsp peanut paste
01 tsp turmeric powder
01 tsp cumin powder
1/2 tsp mixed hot spices powder
02 pcs green chili
01 inch cinnamon stick
02 pcs cardamon
04 pcs cloves
6-8 pcs black pepper corn
Salt as per taste
Oil for cooking
Recipe Type: Chicken
Tags: Tags: Bangladeshi Chicken Recipe, Bangladeshi food and art, Bangladeshi Ranna, Bangladeshi Recipe, Best Bangladeshi food, chef biplab, chicken, snake gourd recipe, Spicy stuffed snake gourd with chicken, stuffed snake, stuffed snake gourd with chicken, Stuffed snake gourd with mince chicken curry