Crab Lemon Curry
2013-02-06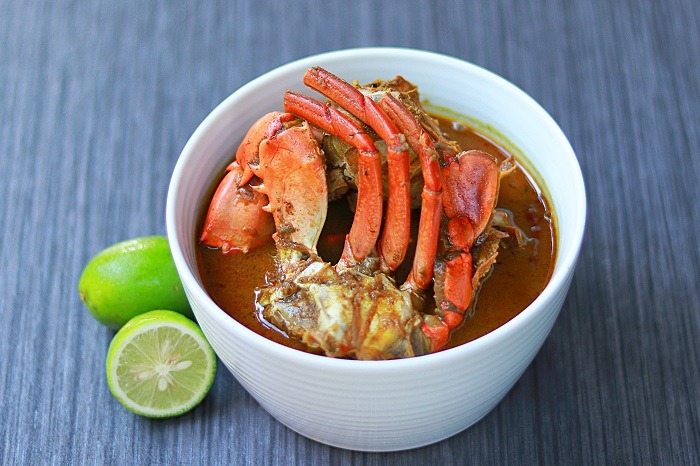 Crab cooked with some of Bangladeshi yummy spices and lemon juice .The citrus flavor of lemon and green chili make more appetite and tasty to the dish .
Ingredients
300 g. crab with shell
02-03 tbsp lemon juice
02 tbsp onion paste
01 tbsp ginger paste
01 tbsp garlic paste
01 tbsp turmeric powder
1 tsp red chili powder
03-04 pics cardamon
03-04 pics cloves
01 inch cinnamon stick
01 tsp cumin powder
03-04 pics green chili
02-03 pics dry red chili
01 bay leaf
Pinch of cumin seeds
Salt as per test
Oil for cooking
For Marination
01 tsp salt
01 tsp turmeric powder
½ tsp red chili powder
Method
Marinate the crab with salt, turmeric powder, chili powder then keep it rest for about 15 minuets .
Heat the oil in medium high heat and fry the crab with brown color then transfer in a bowl.
Make the pan medium high heat then put bay leaf, cardamon , cinnamon stick, cloves, dry red chili, cumin seeds and toss it until change color and make flavor . Put the oil then add onion paste and stir well , when onion become brown color then add ginger paste, garlic paste , salt, turmeric powder, cumin powder , stir continue …
When oil will be separated from onion then add the fried crab and cook gently , add hot water as much as you like . After 4-5 minuet add lemon juice and green chili then reduce heat on simmering point and cover by lid for about 10 minuets . Remove the lid and enjoy its flavor, test with boiled/steam rice .