Authentic Bangladeshi Omelet Curry
2013-02-06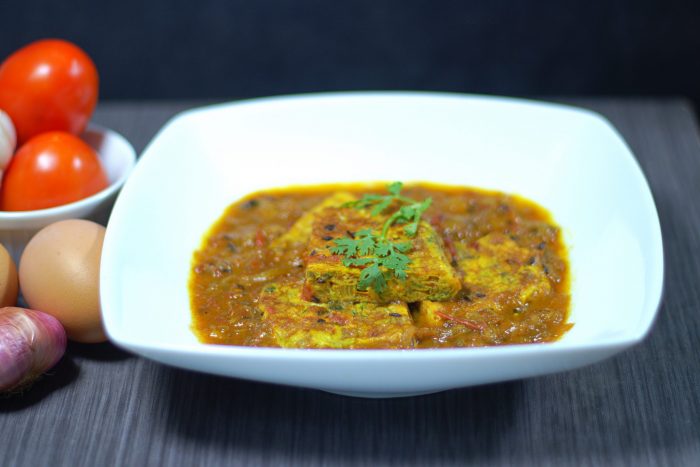 Mixed omelet with tomato, onion, green chili and coriander leaf served in spicy ,yummy tasted Bangladeshi style gravy .
Ingredients
Omelet
04 pcs egg
01 tbsp. chopped tomato
01 tbsp. chopped onion
01 tbsp. chopped coriander leaf
01 pcs green chili chopped
1/4 tsp salt
Curry
1/2 cup onion paste
01 tsp ginger paste
01 tbsp. garlic paste
02 tbsp. tomato paste
01 pcs bay leaf
02 pcs dry red chili
pinch of cumin seeds
02-03 pcs green chili
01 tsp cumin powder
01 tsp turmeric powder
1/3 tsp coriander powder
1/ 2 inch cinnamon stick
02 pcs cardamom
01 tsp salt ( as per taste)
Method
# In a mixing bowl beaten egg with tomato , onion, coriander leaf, green chili chopped and salt .
# Heat the  non sticky frying pan with medium low heat  then put 01 tbsp. oil after that add beaten egg mixed and make a omelet .
After finished to make omelet keep a side and cut it by any shape .
# On the other side, Make the pan medium high heat then roast the cinnamon stick, cardamom, cloves, , dry red chili, bay leaf and cumin seed put oil after 01 minuet .
# When oil will be heat then add onion paste and stir well, after onion become brown add tomato  paste, garlic paste, ginger paste, turmeric powder, cumin powder, coriander powder, salt, green chili and continue stir until oil will come out from gravy .
Add the omelet on the gravy then cover with a lid and keep it low heat for about 04-05 minuets . After finish cooking enjoy omelet curry with any type of rice dish and roti .