Shorshe Tangra / Tangra Fish Cooked with Bengali Thick Mustard Sauce
2013-02-06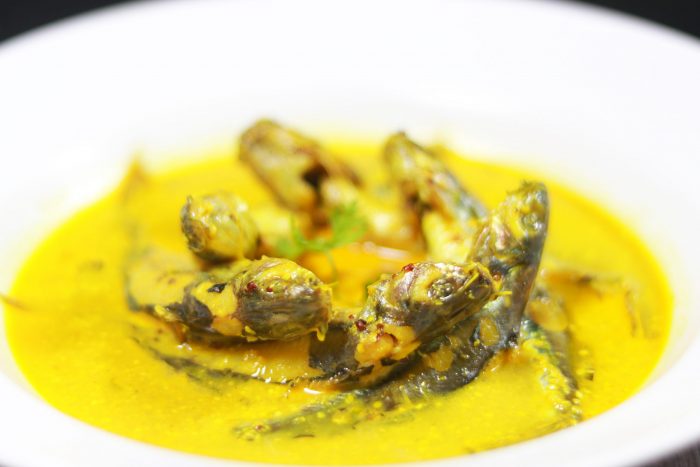 Tangra is a sweet water fish . It is one of the tasty fish . We find this fish in river , lake, canal , ponds . Available on every fish market and super shop  . Its not have any scale that's why easy to clean . Batasio or Mystus tengara or Macrones vittalus is the scientific name of Tangra /Tyangra fish .
Cooking with mustard seed is the tradition of Bengali nation from ancient period . Bengali people like to eat fish for their every meal . For celebrating any occasion fish take a major part of the food menu .  Shorshe Ilish is one of the traditional food of Bangladesh . Some peoples are afraid to eat hilsha fish because of huge amount of bone have in this hilsha fish .  I recommend shorshe tangra to that's people who are don't like any  bone fish . Shorshe Tangra is so much easy to cook because no need to fry the fish before cooking .
Ingredients
200 g. tangra fish
20 g. mustard seeds
02 pcs green chili
05 g. ginger
10 g. cumin powder
Pinch of black cumin seeds
05 g. turmeric powder
05 g. salt
Oil for cooking
Water
Method
 Clean and wash the tangra fish then keep in a side.
Make the paste  of mustard seeds with green chili and ginger then keep in a mixing bow.
Add turmeric powder, cumin powder , salt, 1/2 cup water on the mixing bowl and mixed well with mustard paste.
On the other side make a pan medium high heat then put oil ,  bay leaf , black cumin seeds and wait for spluttering the black cumin seeds  .
Put the mixed paste on the pan then add  the fish and cook for about 10 minuets with cover by using lid .
Cook gently until gravy become thick . Put 01 tsp of mustard oil for better flavor before finished cooking . Serve the shorshe tangra with any type of rice dish or roti .