Chicken Akhni
2013-02-06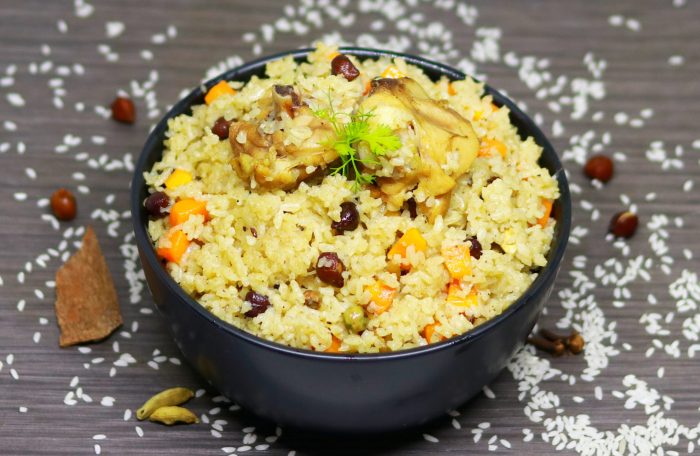 Servings :

2

Prep Time :

50minuets

Cook Time :

40minuets

Ready In :

90 minuets
"Akhni" is a traditional dish in Sylhet division of Bangladesh. Akhni is a healthy rice dish and It's just like tehari .
Ingredients
Chiken-500g.
Slice Onion-40g.
Ginger paste- 10g.
Garlic paste -10g.
Carrot Cube cut – 50g.
Chick Peas (boiled) -50g
Turmeric powder- 05g.(optional)
Cumin Powder 5g.
Coriander powder -5g.
Green chili -05-06 pcs
Salt– 01 tbsp.
Cinnamon stick -02 stick
Cardamom – 04 pcs
Cloves —- 06 pcs
Black pepper—10 pcs
Cooking oil 01 Tbsp.
Bay leaf —02 pcs
Five spices—01 tbsp.
Cooking oil— 03 tbsp.
For the Rice
Chinigura rice-200g.
Slice onion -40g.
Oil—01 tbsp.
Ghee –01 tbsp.
Hot water –400 ml.
Preparation
I. Wash the chinigura rice in water then drain the water from rice by a strainer.
II. In a medium heated pan put cooking oil and ghee then sallow fry the slice onion and stir often. Before onion becoming change to brown color add rice and continue stir for about 2-3 minutes . Keep a side after finished to fry the rice.
III. On the other side make a deep pan medium high heat then put bay leaf, mixed five spices, cinnamon stick, cardamom, cloves, black pepper, for make more flavor and dry fry for about 01 minuets. Add oil on the pan and after oil will be heat add shredded onion . After onion become brown add garlic paste, ginger paste, turmeric powder, cumin powder, coriander powder, salt, green chili and continue stir until oil will come out from the gravy.
5. Add chicken on the gravy and mixed well. After chicken become cooked bring the rice to the pan and add chick peas, carrot, green peas and 400ml hot water. Keep the pan on high heat for about 4-5 minuet. Adjust with salt.
6. Cover the akhni pan and keep it on simmering point for about 10 minutes. After finish cooking sprinkle some ghee for making more flavor then cover again with lid for about 05 minuets.