Lau Tangra
2013-02-06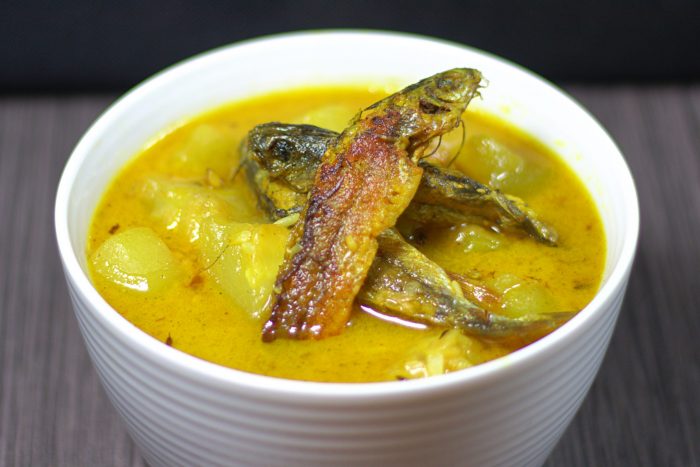 Simply cooked this bottle gourd with Tangra fish curry remining us the regular taste of Bengali food , Bottle gourd make our stomach cool . "Lau" or kadhu is the Bengali name of bottle gourd ,
Ingredients
500 g. bottle gourd ( Lau)
200  g. tangra fish
50 g. shredded onion
30 g. chopped garlic
10 g. ginger paste
01 tsp turmeric powder
01 tsp cumin powder
01 tsp dry red chili powder
01 tsp coriander powder
01 tbsp. salt
04-05 pcs green chili
02-03 pcs dry red chili
02 pcs bay leaf
Oil for cooking
For marinate the fish
01 tsp turmeric powder
01 tsp salt
1/2 tsp cumin powder
01 tbsp. oil
Method
Peeled the bottle gourd and cut by dice  .
 Clean and wash the tangra fish then keep in a marination bowl .
Marinate the tangra fish with salt, turmeric powder , chili powder and oil then keep it 15 minuets for rest .
 Make a pan medium high heat then put oil and pan fry the tangra fish one by one side  . Be careful when flip the fish other wise it can break .
Again, make the pan medium high heat add the dry red chili, bay leaf, cumin seeds on the pan and let them splatter . Put oil on the pan then add shredded onion , stir well and wait for onion become brown color . After onion become brown color add garlic paste, ginger paste, green chili , after that season the onion with turmeric powder, cumin powder, coriander powder, chili powder and salt . When oil will separate from gravy  add the bottle gourd and mixed well with gravy  cook for about 10 minuets with cover by using lid . Add some hot water if you like more gravy .
Add pan fried tangra fish on bottle gourd curry and Cook gently until gravy become thick . Adjust with salt  before finished cooking , if you want you can use coriander leaf for garnishing  . Serve the lau tangra with any type of rice dish or roti .