Shorshe Begun/ Eggplant with Bangladeshi Mustard Sauce
2013-02-06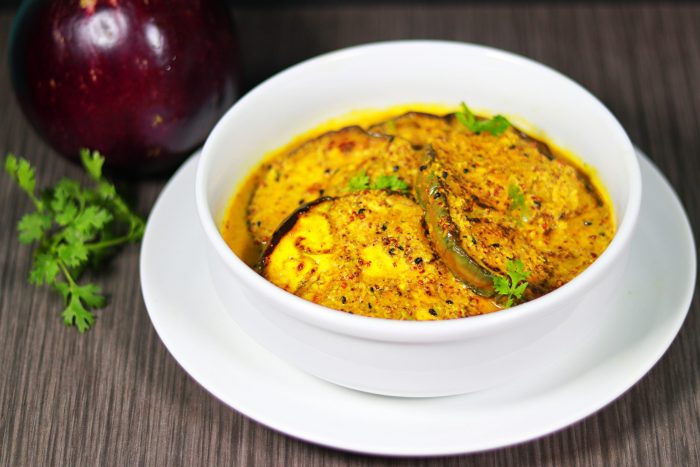 Fried eggplant deep in Bangladeshi thick mustard sauce . Mustard flavor sauce make more yummy to the eggplant . It is 100% vegetarian dish .
Ingredients
200 g. eggplant round
20 g. mustard seeds
02 pcs green chili
05 g. ginger
05 g. dry red chili powder
10 g. cumin powder
Pinch of black cumin seeds
05 g. turmeric powder
05 g. salt
Oil for cooking
Water
For marinate the eggplant-
05 g. salt
05 g. turmeric powder
Method
Cut the eggplant 3/2 inch thick then marinate with salt and turmeric powder .
Make the paste of mustard seeds with green chili and ginger .
Fry the eggplant with shallow oil in medium heat . After finish fry, eggplant keep in a serving bowl .
On the other side make a pan medium high heat then put oil , bay leaf, dry red chili , black cumin seeds and wait for spluttering the black cumin seeds .
Add the mixed paste on the pan then season with salt turmeric powder, dry red chili powder and cumin powder . Put 1/2 cup water for making gravy .
Cook gently until gravy become thick , after that add with fried eggplant . Serve the shorshe begun with any type of rice dish .