Hog-plum with egg curry
2013-02-06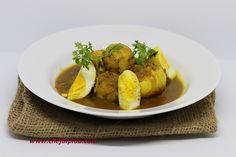 Hog-plum with egg curry is a popular egg dish recipe
Ingredients
04 pcs chicken/duck egg
04 pcs hog plum
02 pcs medium size onion
01 tsp garlic paste
01 tsp ginger paste
02 tsp turmeric powder
1/2 tsp red chili powder
01 tsp cumin powder
01 pcs bay leaf
02 pcs dry red chili
02 pcs green chili
Pinch black cumin
Pinch cumin seed
1/2 inch cinnamon stick
02 pcs cardamon
02 pcs cloves
01 tbsp salt or ( as per test )
Mustard oil for coking
Coriander leaf for garnishing ( optional)
Method
Boil the egg for about 5-6 minuet then remove shell . Exhale the hog plum skin by using vegetable peeler and put it together with egg in a bowl . Marinate the egg and hog plum with salt, 1/2 tbsp turmeric powder, chili powder .
In a medium high heated pan put some oil then fry the marinated egg and hog plum until sealed brown color . After fry the egg & hog plum transfer in a bowl .
Again make the pan medium high heat put oil then add bay leaf, dry red chili, black cumin seed, cumin seed, cinnamon stick, cardamon, cloves, sheared onion and stir well . After onion become brown add garlic paste , ginger paste, cumin powder, turmeric powder, add some water if turn to burning . Add egg and hog plum on the gravy add some water as per your expected consistency then cover the pan for until hog plum become soft . Adjust with salt before serve and garnish by sprinkle some coriander leaf .