Bottle gourd with Mustard Seeds / Bangladeshi Shorshe Lau
2013-02-06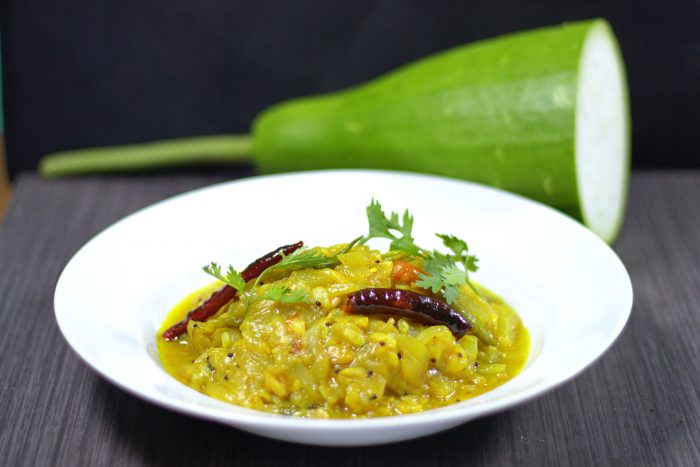 "Lau " is the Bengali name of bottle gourd . Bottle gourd make our stomach cool . This curry is a vegetarian dish .
Ingredients
500 g . bottle gourd
30 g. shredded onion
01 tbsp chopped garlic
01 tbsp turmeric powder
01 tbsp cumin powder
1/2 tbsp mustard seeds
01 tsp coriander powder
02 bay leaf
02-03 pcs dry red chili
04 pcs green chili
Oil for cooking
Method
# Peel the bottle gourd and cut by strip then keep in a side .
# Put some oil in a medium heated pan then add bottle gourd . Seasoning the bottle gourd with salt, cumin powder, coriander powder, turmeric powder , green chili  then cover it with a lid and wait for cooked .
# On the other side make a pan medium high heat then put mustard seeds, dry red chili, bay leaf and allow them to splutter.
Add oil on the pan and fry the shredded onion and garlic  chopped with brown color then transfer it on the pan where bottle gourd is waiting . .
# After mixed all the ingredients then cook more 05 minuets and reduce excess water from bottle gourd  . This dish  is good with any type of rice  dish and roti .