Stir Fried Green Papaya with Dry Shrimp
2013-02-06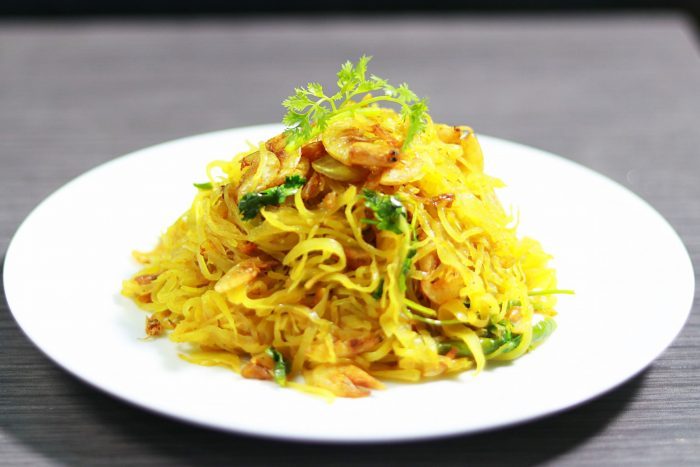 Shredded or slice cut of raw green papaya stir fried with dry shrimp and some of Bangladeshi spices that's are so common .
Ingredients
300 g green papaya
20 g. dry shrimp
20 g. shredded onion
10 g. chopped garlic
05 g. turmeric powder
05 g. cumin powder
pinch of cumin seeds
4-5 pcs green chili
02 pcs dry red chili
01 pcs bay leaf
01 tsp salt ( as per taste)
05 g. chopped coriander leaf
Method 
# Soak the dry shrimp in hot water for 30 minuet and drain it. Cut the green papaya with Julian or slice
# Make the pan medium high heat and put some oil when oil become hot add the green papaya and stir often .
# Add salt, cumin powder, turmeric powder, green chili for seasoning the green papaya and cook until green papaya turn to soft .
# On the other side, make a pan medium high heat and put dry red chili, bay leaf, cumin seed .
Add oil when oil become hot put onion and garlic .With in few moment onion turn to brown color then bring the drained shrimp on pan and fry with garlic and onion .
#After dry shrimp will cook add stir fried green papaya on the pan and stir well together . Before  serving sprinkle chopped coriander leaf  on the dish .