Shidol Recipe / Shidol with Mixed Vegetables .
2013-02-06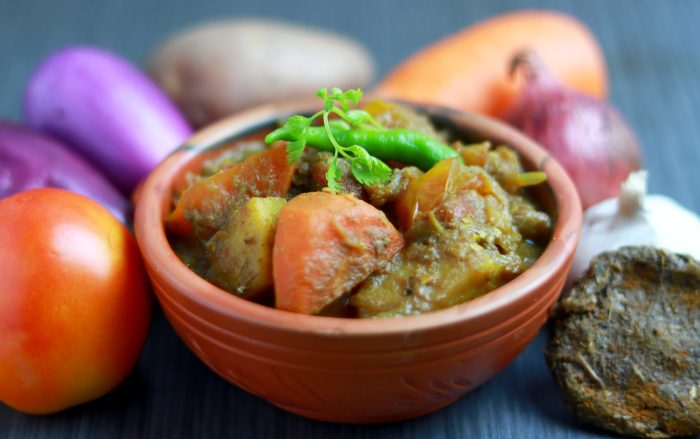 Servings :

04

Prep Time :

40minuets

Cook Time :

20minuets

Ready In :

60minuets
"Shidol" is one of the traditional food of north Bengal (mainly Rangpur). It's made by dry fish and arum paste. Village women's are always make this shidol and keep it for long time by sun dry processes. Any occasion or everyday meal, shidol is so much popular for all age's people.
If you don't know how to make shidol or you don't have enough time to make it , no problem now supper market also available this product.
Ingredients
100 g. carrot
100g. tomato
100 g. cauliflower
100 g. eggplants
100 g. potato
80 g. shredded onion
15 g. chopped garlic
10 g. garlic paste
10 g. ginger paste
02 shidol
05 g. turmeric powder
05 g. cumin powder
03 g. coriander powder
02 dry red chili
02 bay leaf
Pinch of cumin seed
10 g. salt
04 green chili
Method
# Shocked the shidol in water for about 30 minutes, then keep it for use.
#Wash and clean all the vegetable and cut by large dice size.
# Fired the burner and make the pan medium high heat and put bay leaf, dry red chili, whole cumin
(Seed), Oil then shredded onion, chopped garlic and stir well.
# When onion will become brown then add garlic paste and ginger pest. After few moment add turmeric powder, cumin powder, and coriander powder, salt and green chili to the gravy.
# Add, dice cut potato, carrot, cauliflower, tomato and eggplant then stir well. Put some water as much you want see the thickness of your gravy then cover with a lid. Wait for cooked the vegetables.
# After vegetables become soft add shidol on the curry then cover again and keep it on low heat for about 10 minutes .
.After finish cooking sprinkle coriander leaf chopped if you like its flavor, you can enjoy the mixed vegetable with shidol Curry with steam rice yellow fried rice.