Hogla Gurar Payesh
2013-02-06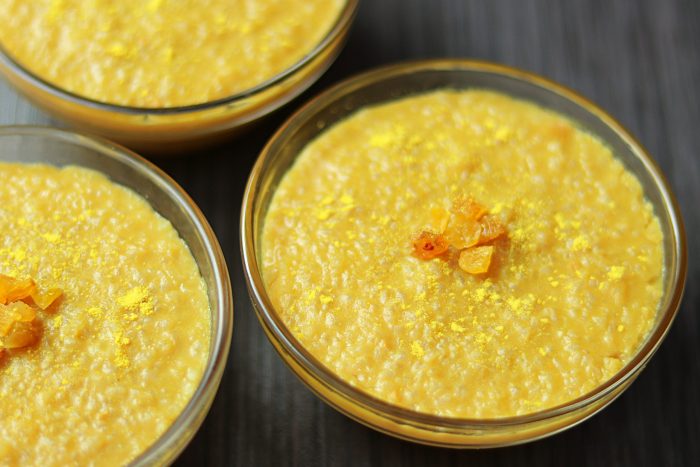 Southern parts of Bangladesh people like "Hogla Gurar Payesh" . It is very flavory and healthy dessert .
Hogla or Southern cattail is a aquatic tall grass growing in cluster, attaining a height of 9 ft. The perennial plant is found mostly in Sundarbans, as well as the southern districts in Bangladesh. There they can be seen standing in the water.
Hogla Gura/powder is founded from dry Hogla flowers powder . It is light yellow color . When hogla gura add on payesh , the dish turned to yellow color .
Ingredients
50 g. gobindobhog rice or chinigura rice
20 g. hogla gura/powder
01 ltr. milk
150 g. Sugar
01 pcs bay leaf
02 pcs cardamom
1/2 cinnamon stick
10 g. raisin
Method of cooking
1. Soak the rice in water for about 25-30 minutes . After soaking , strain the rice and spread to dry it .
2. Soak the raisins in some water for swell them .
3. Transfer the milk, cinnamon stick, cardamom, bay leaf to a heavy deep pan and make it medium heat then wait for boiling the milk . stir often
4. Add the rice to the milk and keep cooking on low heat . After rice become well cooked add the sugar . Be careful about cooking rice, because after adding sugar rice will not be soft so before adding sugar rice should be well cooked . Stir often so that rice does not stick to the pan.
5. When rice and milk will turned to right consistency turn off the burner and add the hoglar gura/powder and raisin then stir for 3-4 minuets .
6. Payesh usually serve with hot or warm temperature but you can keep on chilled and eat cold .