Bilombo with Prawn curry
2013-02-06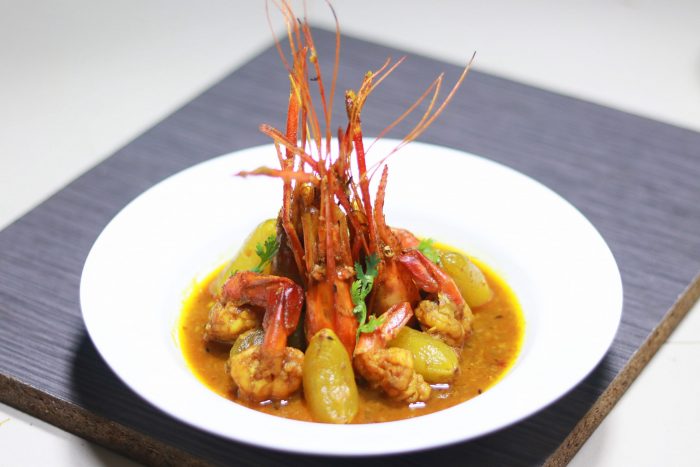 Bilombo or bilimbi is a citrus fruit . Its taste like starfruits . Its good for health and useful for prevention of heart
disease, stroke, cancer, and liver damage .
Prawn and bilombo is a good combination of taste . This curry is my favorite – very yummy , hot and sour tasted . When I find this bilombo on markets , I always try
to buy then cook for me and my family .
Cuisine —– Bangladeshi cuisine
Cooking time — 10-12 minuets
Serving Portion — 02 People
Ingredients
100 g. Bilombo Fruits
250 g. Prawns
50 g. shredded onion
15 g. garlic paste
05 g. ginger paste
03-04 pcs green chili
05 g. turmeric powder
05 g. cumin powder
02 pcs dry red chili
01 pcs bay leaf
05 g. coriander powder
For Marinette Prawns
05 g. turmeric powder
05 g. salt
03 g. dry red chili powder
Methods of Cooking
# Remove shell from the prawns and remove the black vain and clean well . Dry the prawn by using a kitchen towel or a paper
napkin then keep in a mixing bowl .
#  Marinette  the prawns with salt, Turmeric powder and Chili powder then keep it for 15 minuets.
#Fired  the burner and make the pan medium high heat with Oil , pan fried the fish then keep a side .
# Again, Make the pan medium high heat then put bay leaf,  dry read chili, whole cumin
seed and allow them to splutter. Add oil after oil become hot put shredded onion and stir well until onion become brown color . Can be add some water if onion turning to burn .
# When onion will become  brown then add garlic paste and ginger paste.  After few moment add all the rest of spices and stir well .
# Add fried prawns and bilombo fruits on the pan then stir well . Here I use bilombo whole but if you want you can cut it by small pcs.
# Put some hot water for making liquid of gravy as much you want then cover with the lid . After 05 minuets remove the lid and serve with steam rice .