Pumpkin Flower Cutlet
2013-02-06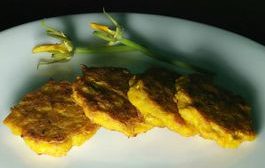 "Pumpkin Flower Cutlet" Bengali name "kumra fuler bora" . Rice Flour and Pumpkin Flower both are contain huge amount of nutritional value .
Ingredients :
Sweet Pumpkin Flower—-10 pecs
Rice Flower ——————-50 g.
Turmeric Powder ———–1/2 tsp
Salt——————————as per Test
Cooking Oil——————-02 Tbsp.
Green Chili Chopped——01 pecs
Water———————–40-50 ml
Method
In a mixing bowl add rice flour, turmeric powder, salt, chopped green chili ,sweet pumpkin flowers and water then mixed well for making the batter . Don't put water by once because more water can damage the batter thickness .
Make the pan medium heat then put oil and waiting for the oil become hot . Shallow fry the sweet pumpkin flowers batter one by one side . After finish the cooking serve with warm temperature .