Chicken Lotpoti
2013-02-06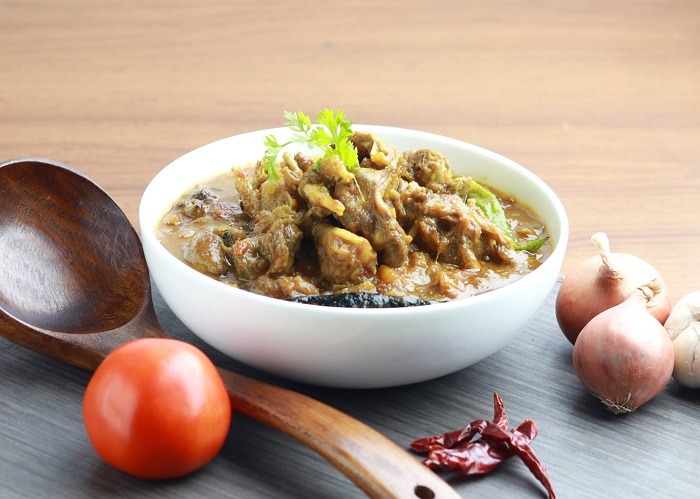 In Bangladesh "Lotpoti" is so much popular. Basically Lotpoti is chicken offal (giblets, liver and intestines of chicken) curry. This dish commonly eaten with roti and paratha that's why its cooked in more gravy .
Ingredients:
500 g. chicken offal
100 cup shredded onion
01 pcs tomato
01 tbsp garlic paste
01 tbsp ginger paste
01 tbsp turmeric powder
01 tsp cumin powder
pinch of cumin seed
½ tsp red chili powder
01 tsp coriander powder
01 pcs bay leaf
02 pcs dry red chili
2-3 pcs green chili
01 inch cinnamon stick
02 pcs cardamom
3-4 pcs cloves
5-6 pcs black pepper corn
1/2 tsp mixed hot spices powder
Salt as per taste
Oil for cooking


Method:
1. Make the pan medium high heat then roast bay leaf, cinnamon stick, cardamom, cloves, dry red chili, cumin seed, put oil after 01 minuet. When oil will be heat then add shredded onion and stir well, after onion become brown add garlic paste, ginger paste, chopped tomato, turmeric powder, cumin powder, coriander powder, chili powder salt and continue stir until oil will come out from gravy .
2. Add chicken offal on the gravy and mixed well. After few minuet add 01 cup hot water and keep it on high heat for about 4-
5 minuet. Adjust with salt, sprinkle the mixed hot species powder and green chili.
3. Cover the chicken lotpoti and keep it on simmering point for about 10 minuet . After finish cooking enjoy with steam rice,
rice or roti .