Chui Jhal Chicken
2013-02-06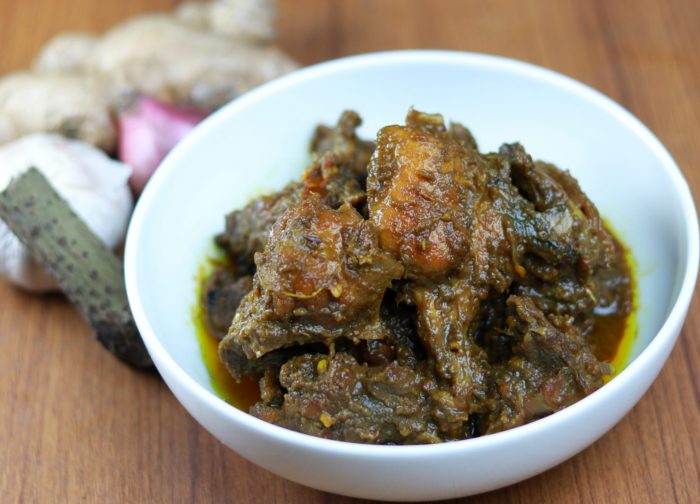 Chui jhal is favorite for Khulna Division's people . It increase the test of every fish and meat dishes . Chui jhal is very good for digestion .
Ingredients :
Choijhal—————–02 inch
Chicken Leg————–01 pcs
Chicken Breast———–01 pcs
Turmeric Powder ————–1/2, 1/2 tsp
Garlic Paste—————01 tsp
Shredded Onion ———1/2 cup
Ginger Paste —————01 tsp
Bay Leaf——————–01 pcs
Dry Red Chili—————-02 pcs
Chili Powder—————–1/4 tsp
Cumin Seeds——————pinch
Cumin————————–01 tsp
Cinnamon Stick —————-01 inch
Cardamon————————02 pcs
Clove——————————04 pcs
Black Pepper Corn ————-5-7 pcs
Oil …………………………….. for Cooking
Mixed Hot Spices Powder—–1/4 tsp
Salt——————————-as per test
Method:
Cut the chicken leg & breast by 02 pcs . Marinate the chicken with salt -1/2 tsp , turmeric powder – 1/2 tsp, chili powder -1/4 tsp then keep it 30 min. for rest . In a medium heated pan shallow fry the marinated chicken . After Chicken become brown remove from the pan and put in a bowl .
Make the pan medium high heat then add cinnamon stick, cardamon, clove, black pepper corn, bay leaf , cumin seeds and dry red chili, roast all the whole spice .s . About 01 min. later put oil – 02 tbsp then add shredded onion and stir well . when onion will become nutty brown add garlic paste & ginger paste then add chui jhal , turmeric powder, cumin powder, mixed hot spices powder, cook and stir well until oil will come out from the gravy mixture .
When oil will start to come out from the gravy add the chicken and mixed well . As per your consistency of gravy add some hot water and keep it 10 min. to simmering point .Finally , when chicken will be soft and aromatic flavor then serve