Fish in Bottle Gourd Leaf Wrap
2013-02-06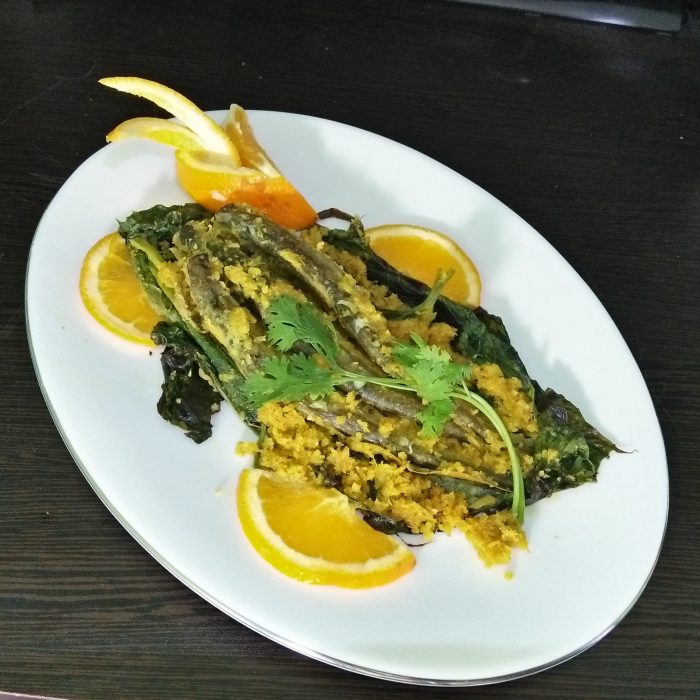 FISH IN BOTTLE GOURD LEAF WRAP
Bangladeshi peoples are like too much to eat fish in leaf wrap.
Every body enjoy its test, flavor , moister and texture . Hear I use Pabda fish but you can use any  types of fish .
Ingredients ;
Pabda fish ——03 pcs
Bottle Gourd Leaf-—-02 Pcs
Lemon Juice —1/2 tsp
Turmeric Powder —-1/2 tsp
Salt —————1 tsp
Garlic Pest—–1/2 tsp
Ginger Pest—-1/2 tsp
Onion Pest—–01 tbsp
Coconut Milk—-02 tbsp
Cumin powder—1/2 tsp
Coriander Leaf –( optional)
Mustard Oil ——-01 tsp
Method of Cooking
*** Mixed all the ingredients except Pabda Fish, Coriander leaf and Bottle Gourd leaf .
Whisked well and make good pest , add the clean fish and keep it for 15 min. for set aside .
*** Wrap the marinated fish with Bottle Gourd leaf and tide it by using cotton
**** Make the pan medium hit then put  oil after that cook the warped fish for 10 min. After finish the cooking enjoy with rice .