Shatkora Fish Curry
2013-02-06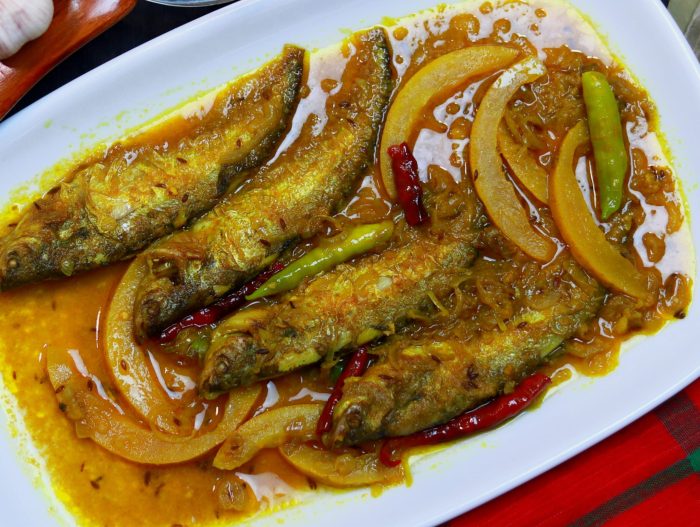 Shatkora is a citrus fruit .Fish and shatkora is a good combination of taste . Any kinds of fish is good for this dish .
Ingredients
01 pcs . shatkora
250 g. pabda fish
50 g. shredded onion
15 g. garlic paste
05 g. ginger paste
03-04 pcs green chili
05 g. turmeric powder
05 g. cumin powder
02 pcs dry red chili
01 pcs bay leaf
05 g. coriander powder
For Marinate Fish
05 g. turmeric powder
05 g. salt
03 g. dry red chilli powder
Methods of Cooking
.# Marinate the fish with salt, turmeric powder and chilli powder then keep it for 15 minuets.
#Fired the burner and make the pan medium high heat with Oil , pan fried the fish then keep a side .
# Again, Make the pan medium high heat then put bay leaf, dry read chili, whole cumin
seed and allow them to splutter. Add oil after oil become hot put shredded onion and stir well until onion become brown color . Can be add some water if onion turning to burn .
# When onion will become brown then add garlic paste and ginger paste. After few moment add all the rest of spices and stir well . Put some hot water for making liquid of gravy as much you want .
#Cut the shatkora and remove the inside part, because in cooking we use only skin .
# Add fried fish and shatkora fruits skin on the pan then cover with the lid .
# After 05 minuets remove the lid and serve with steam rice