Pork with Tamarind
2013-02-06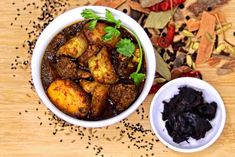 Pork with Tamarind,
Citrus taste of pork meat cooked with tamarind pest . Bangladeshi name of this dish is " shukor -a-tetul" .
Ingredients
300 g. Pork bone less or with bone
01 tbsp tamarind paste
50 g. onion paste
1 tbsp ginger paste
1 tbsp garlic paste
01 tbsp slice onion
01 tsp chopped garlic
1 tbsp turmeric powder
1 tsp red chili powder
03-04 pics cardamon
03-04 pics cloves
01 inch cinnamon stick
01 tsp cumin powder
05-06 pics green chili
02-03 pics dry red chili
01 bay leaf
Pinch of cumin seeds
Pinch of black cumin seeds
Salt as per test
Oil for cooking
Method
Make the pan medium high heat then put bay leaf, cardamon , cinnamon stick, cloves and toss it until change color and make flavor . Put the oil then add paste of onion , ginger paste, garlic paste , salt, turmeric powder, cumin powder , stir continue …
Add the pork meat and cook for about 4-5 minuet then add 01 cup of hot water .Cook the pork meat for about 25-30 minuets or until cooked with in medium heat. Add tamarind paste and add more hot water when will be needed .
When meat will be soft , take another pan and make it hot . Put 01 tbsp oil on the pan then add dry red chili, bay leaf, cumin seed, black cumin seed, slice onion and chopped garlic . Return all the ingredients on cooked meat pan .
Add green chili then reduce heat on simmering point and cover by lid for about 10 minuets . Remove the lid and enjoy its flavor, test with boiled/steam rice/ paratha/ roti .